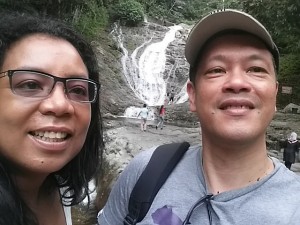 Cameron Highlands is cooler since it's the mountain side in the middle of the country. It's quite high. So a long ride up the mountain with a lot of hair pin bends in the road Luckily it was a two way road. At every scenic point there were gift shops and restaurants! We only stopped once at a beautiful waterfall. A nice scenic view but even better fried bananas or as we call them Baka Bana. They were just fried. Hot crunchy sweet……..hmmm to die for. And the price was great too….5 for 0,75€!
Even there the shops were filled with bamboo wind gongs. I always buy a few when I go to China because I love the sound of them. The higher we came the more the architecture changed. It was a s if we entered an Austrian landscape. Or northern Italy.
Beautiful mountain view hotels looking like Austrian castles. The trees and natures of course also changed from tropical to mountain. So a lot of Christmas trees!
It was so much more quiet……we clearly left the buzzing Kuala Lumpur. The hotel staff was extremely friendly and helpful. The day had almost passed during our ride up to the mountains and it was time to start the hunt for diner. We went to a nearby town. All Chinese restaurants seemed to be steamboat restaurants. Burt didn't like that very much. So we kept searching and searching for food we would both like and ended up on a huge market. Everyone leaving the market seemed to carry takeaway baskets. So that fascinated us. The last row of stalls on the market was devoted to food! Fried food. And fried everything. Mushrooms, mushroom hair, beans, water cress and other vegetables and fish. Crab, prawns, squid, river lobster, but off course also chicken. Everything was hot and just fried. And very very cheap. One takeaway basket costed about 1,25€. And one was enough. But off course we wanted to try everything so we bought several. It was an adventure to eat like the locals. And one we repeated! They also sold BBQ satay on the market and sea coconut. That was a first. Had never even seen it. Let alone eat it. And drink it. The taste is very similar to a coconut. The outside color is dark purple. On the inside there isn't just one big pocket with fluid and flesh. There are several pockets with quite some flesh and the juice beneath it.
We returned to the hotel with a full belly that cost us little money but provided us with a lot of joy and excitement.