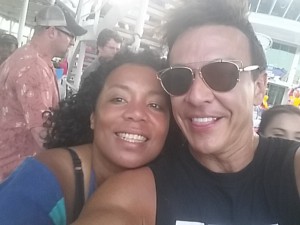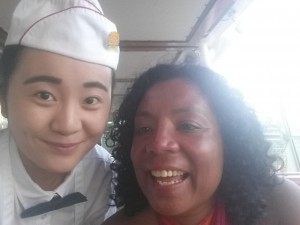 The cruise is awesome. there are some minor points though. It's as if you re being charged for everything. The cruise was more expensive than other cruises I have been on. A cruise is supposed to be an all inclusive experience. This cruise wasn't . Everything you bought or paid on the cruise was charged extra. 18% extra. And then there was the tipping. You are charged an additional 13 usd a day. And in the ports we visited you were unable to do as you please. In Jamaica for instance only contracted taxi's were at the port that charge a big amount of money to take you to the beach. There is this constant feeling like someone is trying to make money off you.
That feels really uncomfortable.we had lunch at Johnny Rockets. The food was for free. But you do het charged 6 usd plus 18% surcharge for sitting there. I had a chili cheese hotdog and a regular hotdog. I didnt have anything to eat other than 2 apples. The hotdogs were really good. But i will stick to regular ones in the future. there was a nice fuwuyan. …waiter in Mandarin working there. Of course I couldnt pass onthe opportunity to speak a little mandarin. She was so surprised and impressed. But we did go to the beach. Trish Jeff and I. It was beautiful. There was sun! And there was WIFI! So I was able to post the blogs of the first 3 days and pictures. And talk to Burt and Shannon. But it took mee the complete 2 hours to do so!
I have a very nice pedometer. Burt has a newer and better one. Im so happy he bought one because it motivated me to use mine more active. And we have been walking together. And we ve been keeping scores. Healthy competition. He'll walk with me now because he wants to reach his target. You must know where I'm going with this. I took 4 classes a day which is a lot. Most people took 1 or 2 classes a day. I need a cruise to relax now!
On day 4 I took 2 prior to going to the beach in Jamaica and three after returning. I improved my best score on the pedometer almost every day. My previous best score was from december 31st. 20.000 steps. I thought that was a lot. But now I have reached as much as 25.000 steps. …20 kilometers and burned 1250 calories while walking. And that almost every day while on the ship. I dare Burt to beat that.