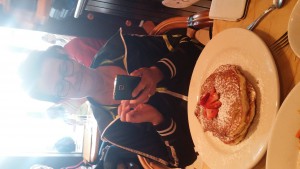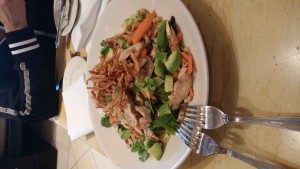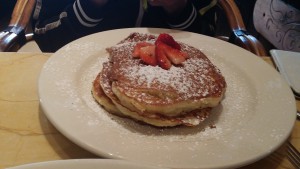 Carmen send me a text message to enjoy the sun. When I woke up this morning the sky was bright and blue.  And there was sun! So that put me in a good mood. Until I went outside.  It was Freaking COLD! Probably even colder than back home. You know when it's wintertime and the sun shines? Well that's what it felt like.
I felt like like going back to the apartment and wear my New York apparel! But it was okay since we returned to Sawgrass Mills around opening time to do some more shopping.
We were there to watch the stores open! Walked around. Shopped around. And then we went to Cheesecake Factory.   People haven been telling me for years that this would be a great place for me to eat, and it is! Remember  Marilva?
So I took pride in introducing Pieternel to my other favorite place to eat in the USA. You can't really tell from the picture. But the plates at the CF are huge! Almost 4-5 times the size of a regular plate in a restaurant in the Netherlands.
We shared a salad. It was more than enough for the both of us. Can you tell by looking at it what it's called? It's worthy of it's name!
Im rubbing off on Pieternel. She ordered lemon ricotta pancakes  after the huge salad.
I hope you're reading this blog on a mobile device because the pictures are driving me CRAZY! They come out upside down etc. If anyone knows how to fix this please let me know.