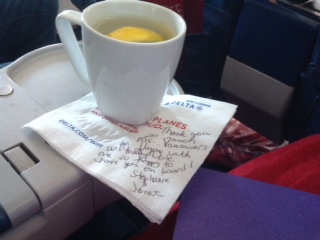 Today was the first day that I wasn't jet lagged… So a great day. Weather was great and I spend the whole day shopping and walking from 7 am on till 9 pm!
But before I get into that I need to tell you some more about this picture. It was taken during the flight to New York. The flight attendant had written every  business class guest a note on the napkin she served our drinks on! It is so thoughtful. Even though it was only a one hour flight she really went out of her way to make our day! And she certainly made mine!
---
Today is the second day that I'll go to bed without having diner.  Just two hotdogs. Yesterday it was cup a soup bouillon. But since today I'm definitely having the time of my life. Scored some great bargains and I only visited 7 stores! All day.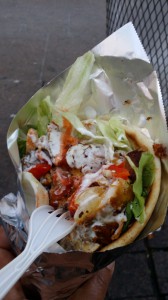 In my defense I had a great lunch at liberty plaza outside. I had pita gyros. You can see it on the picture.  It tasted completely different from the gyros we eat in Greece and in the Netherlands for that matter. But it was good.
Well need to go to sleep so I ll be well rested for round 2!