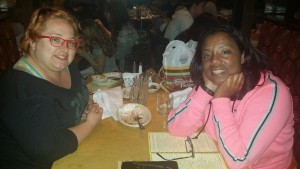 Disembarking the ship was a disaster. It usually is an organized process. They ll call out numbers, because they divide the passengers I groups and then you walk off. Apparently immigration on Fort Lauderdale likes to slow things down and bully passengers around. If you're ever going on a cruise make sure you don't take on departing from Fort Lauderdale unless you enjoy being shouted at as if you're an inmate. It was shocking to me the way they boss you around. As if they're clearly envious that you went on a cruise. It took over 3 hours of standing In line to disembark. No one bothered to announce the reason of the delay and extreme wait.
Unfortunately there was no wifi.
Anyway I ended up at the airport to get access to wifi. I need to book a room for the night. I found one 15 minutes from the airport through Airbnb. The owner was so nice. He offered to pick me up and drop me off the next day even though my flight departed at 7 am. He asked me 40$ to drive me around all day. He carried all my suitcases and was extremely helpful.
The first stop was the beach. He dropped me off. And I noticed the hotel one of my roommates was staying right on that corner. So I went to the reception and checked. And indeed she was staying there. Wayne, the Airbnb owner offered, to pick her up later as well and to bring us to the Cheesecake Factory later to have diner. And so we did. We had diner together. Wayne picked us up afterwards and drove her home. It was like staying with family.
That was extra important since the adrenaline was gone and the tiredness sunk in. I was soooooo tired. When we arrived at his house I organized my stuff and went to bed right away slept untill 4.30 am