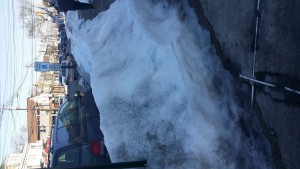 Day 7
Got up, got dressed, Wayne dropped me off at the airport. Made it in time for my flight. The plane arrived at La Guardia at 12.47 and by 1.06 I was already in a shuttle bus on my way to port authority. From there I'll take the bus to Newark to my next Airbnb adress.
As usual the bus was late! Every time I take the bus there it's late! But there was this very nice young man that helped me out with my luggage. He carried it, put it in the cargo area at the bottom of the bus. Really nice!
It was a challenge to get off though. Because Christian the Airbnb owner told me to get off at the first stop. The instructions were conflicting. The female driver got really irritated when I asked her for information on where to get off. But the odd thing is that when we got to the first stop and she expressed her concerns not only did she tell me to call, but stopped the bus all together and wait for me to find out where I should get off. A lady, another passenger, Googled the exact address and said it was probably the next stop. So I got off at the next stop. You can see the snow on the side walk. It wasn't an option to walk there with two suitcases and a carry on. So I walked on the street while avoiding the cars.
The house is in the street where the bus stops. It was just a matter of walking to the right number/house. But as soon as I had identified the correct house a young man came up to me to help me with my luggage. It was Christian, the owner. He brought me to my room. I unpacked my carry on and he drove me to Jersey Gardens right away. I arrived there earlier than I expected. A little before 4.
Then it was time for some serious speed shopping. The outlet mall closed at 7 and some shops as early as 6.30. Lucky for me I knew exactly what stores I wanted to go to and where they were located. I bought everything I wanted and was finished in time.
Christian picked me up at the mall and we went back to the hotel. I repacked my suitcases. Again. Now I needed to get everything out that I needed for the cold new. York weather. Even though there's still snow on the street till above my knee it wasn't even cold. I was overdressed.